Configure your dream bike - with our configurator! | Simplon Bikes
Know-How
|
With the online configurator by Simplon, you can configurate your dream bike. How? Find out in our magazine!
The Simplon bike configurator
Select your preferred bike, configurate it, and order it online!
(E-)road bike, (e-)mountain bike, trekking bike or e-bike – you've already picked out your dream bike? Great! Then it's time for step two: configurating it. As you probably know, every Simplon bike is a one-of-a-kind piece and can be perfectly adapted to your needs and wishes.
The configurator now offers you numerous added features that make it even easier to configurate your bike. But let's first start with: What do you even need the Simplon configurator for? What can you do with it? And how do you choose the right equipment? These and other questions will be answered right now!
What's the Simplon configurator?
At Simplon, you'll only get bikes that are completely unique. Bikes that are basically tailored to you and your needs. To individually configurate your dream bike, you can make use of the Simplon configurator. And you can really live it up! For instance, you can choose from different sets of equipment and many optional add-on features – price and weight are always specified. Creating a customer account also lets you keep track of all your current configurations.

Step by step: How do you configurate your dream bike?
Step 1: Selection of a base model
First things first: Select your preferred base model! This means, you can choose a model that suits your needs from our extensive range of bikes. From sporty road bikes to agile MTBs and comfortable e-bikes: Simplon offers everything a rider's heart desires.
Step 2: A suitable set of equipment
Now, it's time for the next important step: choosing your preferred set of equipment. It's the basis for every Simplon bike, so to speak. The individual equipment options usually differ in terms of the gear shift, crank, cassette or the brakes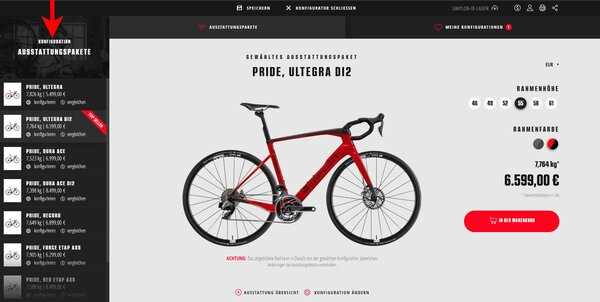 In case you have a hard time deciding on a set, you might want to have a look at the top seller. It shows you the set of equipment that's the most popular with other bike enthusiasts.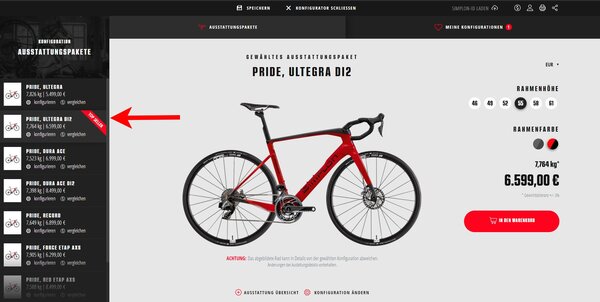 Step 3: Configuration
You've found your preferred equipment? Then you can start configurating the bike based on your requirements. Saddle, handlebars, cockpit, fork … the options are seemingly endless. And you can't go wrong: In case you add an "unsuitable combination" of components, you'll automatically be shown alternative compatible options. By clicking on the "exchange" button, you'll be able to replace them.

How about a bottle cage or a rear rack? All add-on components will be listed in a convenient overview during the configuration process.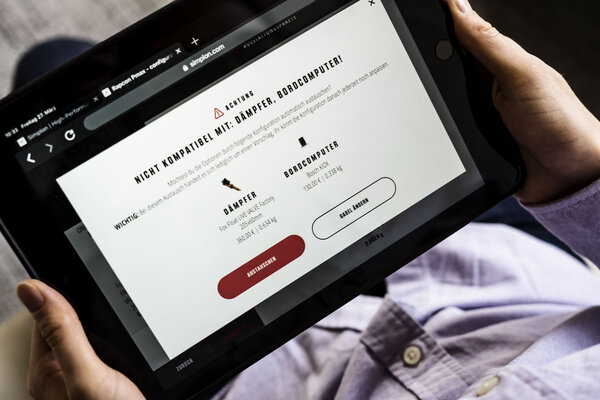 To ideally support you in making a decision about which individual features your bike should have, there's a comparison list: It shows you the exact differences between the various sets of equipment or between your configurations. Just click on the "compare" button next to the respective set. The arrow icon at the top then takes you to the overview. In the comparison list, all components that differ between the various sets of equipment are in bold. Equipment sets you'd like to discard can be removed by clicking on the recycle bin icon.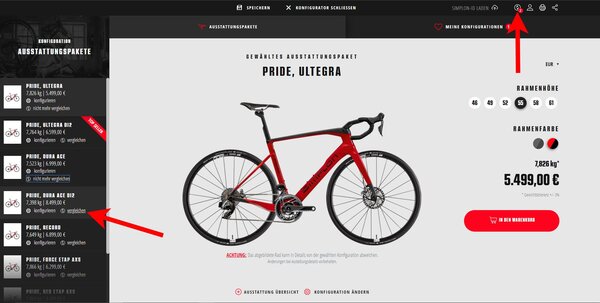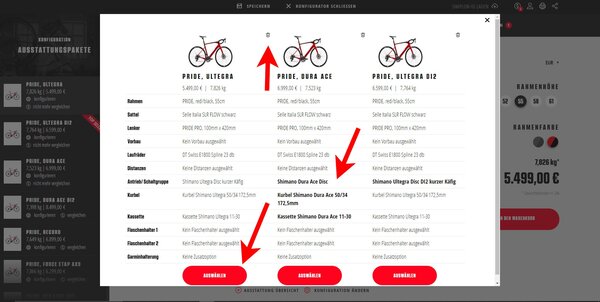 Good to know: You can add every configuration to your wish list. This means it is saved for six months and can be viewed or changed any time.
Step 4: Completion
A full list of all components, options and add-on features can now be viewed in the equipment overview. If you click on the "Equipment Overview" button, it takes you to the list of bike details including weight and price.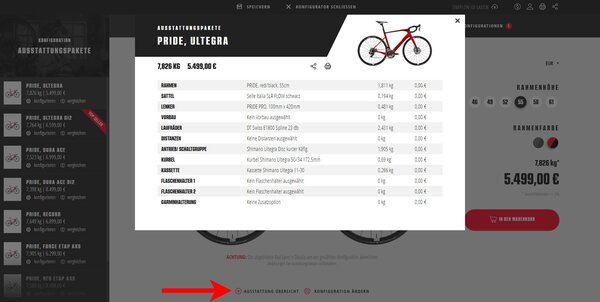 You've configured your bike just the way you wanted it – and now, you're sure: "That's my dream bike"? Then name your configuration, print it, and head straight to your dealership! Another option is to note down the bike ID. The dealer can then enter it into the system and see your configuration.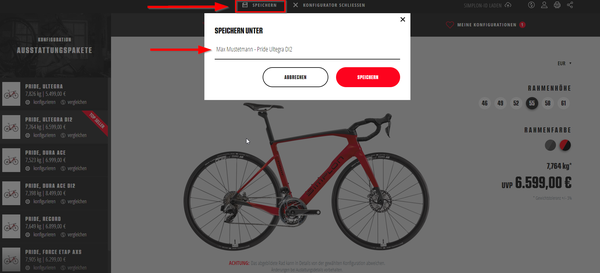 Take advantage of the benefits of a customer account! From now on, you'll have your own space where you can manage the bikes you've selected. Just create a customer account! You can then save, change and share the bikes based on their ID.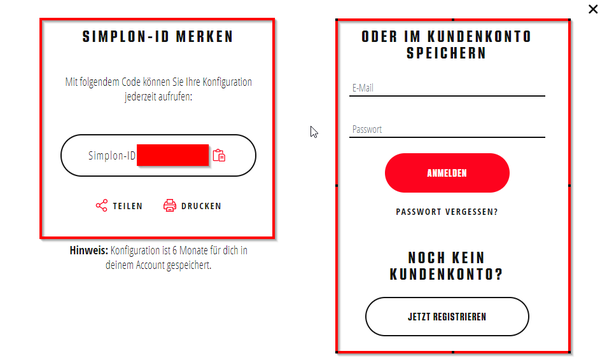 Good to know: Every saved configuration receives a Simplon ID. Clicking on "Load Simplon ID" lets you access it from any device, no matter where you are.

You're itching to start configurating your dream bike by Simplon? Choose your favourit bike and head right to the configurator!

You have questions about the configurator? Or you need help with choosing a suitable bike? We're happy to assist – get in touch with us!